Top-Rated Dental Services in Spring, TX
At Tymes Square Dental, we provide the best in dental servicing to the whole family. Whether you're simply coming in for a routine cleaning, or you're looking for restorative or cosmetic dentistry services, our team of smile experts has the decades of combined experience and state-of-the-art facility to allow our patients to leave our office with the best smile they're ever had. At our office, the patient experience and preventing serious dental problems are our top priority. That's why we take the time to educate our patients and place a great deal of importance on routine exams, so that small complications can be treated before they become costly and painful. We have extensive experience working with teens and small children, allowing us to make the dental experience best for everyone.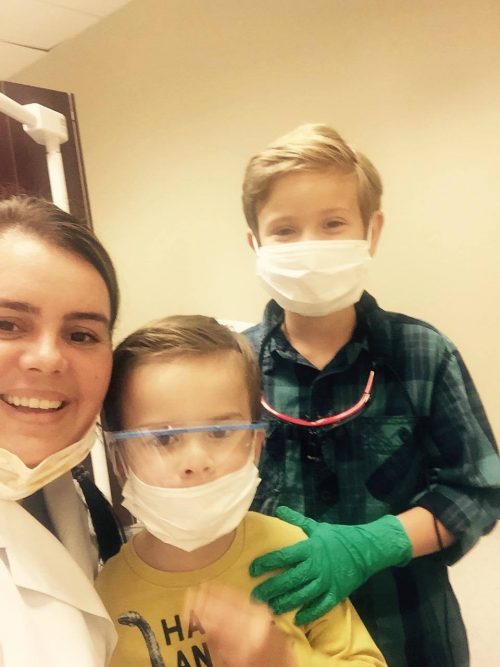 Dental Fillings
Fillings are done to remove decay, and replace the affected tooth structure. It is called a filling because new a material fills hole that decay left. Now days most teeth are treated with bonded tooth colored composite resin fillings. Caught early enough, cavities can be treated easily and painlessly. If not treated decay can lead to tooth pain and/or infection, and the tooth would need root canal treatment or extraction.
Bridges
If one or more teeth need to be replaced, then a bridge can be used to fill in the space. These dental restorations are designed to be anchored on the surrounding healthy teeth or dental implants. Bridges are an excellent solution to improve the appearance of the smile, restore normal functioning, and reduce the risk of dental complications that occur from missing teeth.
Bonding
Teeth that are chipped, fractured, decayed, or discolored can be treated quickly using a dental bonding treatment. This process involves the application of tooth-colored resign that bonds to the surface of the teeth. This treatment doesn't require pieces to be manufactured in a laboratory, which means that the treatment can be completed in a single visit. It is a cost-effective, easy way to improve the appearance of your smile with minimal treatments.
Crowns
Dental crowns serve multiple functions, such as improving the appearance and strengthening the structure of a tooth. A crown is designed to cover the outside portion of the tooth. Often, crowns are suggested when a large portion of the tooth was removed due to damage or tooth decay. The crown is custom-fit to your mouth and feels like the natural tooth.
Dental Sealants
This is used to fill in narrow grooves in a tooth that cannot be adequately cleaned by brushing. In some cases, the tooth structure has fine grooves or pits which accumulate plaque, not because the person doesn't brush, but because they're too narrow to allow even one bristle into them. These will develop cavities over time, and you don't want that. So the dentist will brush on a coating that seals the grooves and pits, making it possible to brush off all the plaque and keep your teeth healthy.
Non-Surgical Gum Treatments
The gums, ligaments, and bone around the teeth form the foundation for ones teeth. All structures are also referred to as the periodontium. When the periodontium is not healthy, it jeopardizes the teeth just as a bad foundation would threaten the stability of a house. Signs of unhealthy periodontium (gum disease) may be as follows: gums that are red and bleed easily, persistent bad breath, gums that are pulled away from the tooth, loose teeth, and changes in the position or bite of the teeth. Any of these signs may mean something is wrong. With the proper care, however, it may be possible to return them to a healthy state. This is where appropriate gum treatments come in. If you're having a problem, come in and see us so we can take care of it right away. The treatment usually involves a deep cleaning or root planing done under a local anesthetic, along with local antibiotic agents. If the gum disease gets too severe it may need to be treated through surgery or extraction. This is why it is important to get it treated at the first sign of a problem.
Restorative Dentistry
Damage to your teeth and gums can take a toll on your appearance and confidence. If you don't love your smile, then you need to talk to a cosmetic dentist about restorative treatments. Our experienced team will evaluate your dental health and offer recommendations for the best results. Restorative dentistry can include everything from a basic filling to dental implants, crowns, and veneers.
Emergency Dentistry
Immediate dental care is essential when a dental emergency occurs. Whether you are experiencing a toothache or your mouth has been injured in an accident, our team is just a phone call away. Some of these emergency treatments are time-sensitive, so we encourage you to contact us as soon as possible. We will find a time to fit you in the schedule or meet for after-hours care as required.
Dental Implants
If you are looking for a long-term solution for tooth replacement, then dental implants are one option that shouldn't be overlooked. The implant uses a post that is secured in the jawbone, acting as the root of a natural tooth. Often, bridges or crowns are put on top of the post, placed in alignment to create a full and complete smile.
Root Canals
There are times when the root of a tooth becomes infected. When the infection is left untreated, it can cause pain, and the infection can spread through your mouth. Often, the best treatment to save the tooth is to have a root canal. The technology for this treatment has come a long way over the years, making a root canal almost as simple as a basic filling. The dentist drills into the tooth to remove the infected tissue, then the inside is sealed and filled in. A crown might be needed to strengthen the structure of the tooth after the root canal is complete.
Oral Health/Hygiene
Ongoing dental care is essential to ensure good dental health for life. Not only do you need to visit a dentist for regular exams and preventive treatments, but at-home flossing and brushing are key to maintaining the health of your teeth and gums. When you visit our office, we will provide education and personal recommendations based on your dental health and treatments that might be needed. Our goal is to help you with creating the highest level of oral health and hygiene.
X-Rays
This is a focused beam of X-Ray particles through bone which produces an image on special film, showing the structure through which it passed. This gives the familiar black and white images that doctors and dentists use to diagnose problems. X-rays are a necessary part of the diagnostic process, and not to use them could lead to un-diagnosed disease. Without an X-ray of the whole tooth, and supporting bone and gum tissues, there is no real way to detect infection or pathology that requires attention.
In our office we use digital radiography which allows us to take X-rays using 50-70% less radiation versus conventional X-rays. Coupled with computer monitoring, digital x-ray technology allows us to enhance the images for better diagnosis of any dental concerns.