Your Spring, TX Invisalign® Experts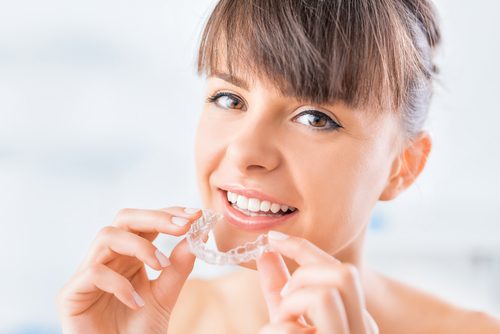 If you want to improve your smile and correct gaps, overcrowding, or alignment issues, Invisalign® orthodontic treatment might be right for you. Dr. Chris Caldwell & Dr. Olga Iglesias, and the team at Tymes Square Dental in Spring, TX offer Invisalign to adults and teenagers who want beautiful and healthy smiles. Call or schedule an appointment online today.
Invisalign straightens your teeth with a series of clear, virtually invisible, custom-molded aligners. By using a series of clear, removable aligners, Invisalign straightens your teeth with results you'll notice sooner than you think! The course of treatment involves changing aligners approximately every two weeks, moving your teeth into straighter position step by step. This is done until you have a beautiful smile that you can be confident in! Unlike braces, these clear aligners can be removed and you can eat and brush your teeth as usual. If you are looking for the best in advanced orthodontic treatment in Spring, TX, Tymes Square dental is the dental office for you!
Orthodontics Near Me
You don't need to live with an imbalanced smile and have crooked teeth for the rest of your life! You don't have to deal with un-straight teeth, especially since teeth can be straightened easily with advanced ortho treatments like Invisalign. The teeth will gently be moved into place with custom-molded aligners. These aligners are changed every two weeks through a series customized to create the perfect smile. You can choose traditional orthodontics, such as braces or pick clear aligners depending on your condition. Talk to our team about your orthodontic options and if clear aligners are the right choice for you or a member of your family!
---
#1 Orthodontist Near Me – Clear Aligners & Braces in Spring, TX – Top Rated Orthodontics Near Me